What You Need To Do For Hair Extensions Before and After
Before Getting Hair Extension
1. Pick a Method That Will Work Best with Your Hair
While it may sound wonderfully simple, you can't just walk into a salon and demand for a full head of hair. There's much to understand about the extensions especially the types that you'll be adding to your hair. Hair extensions come in glue-taped, taped, weaves and keratin-applied extensions. It is highly recommended to go for a keratin process which makes use of heated and cold machines to bond keratin tips to your natural hair strands. If you're somehow frightful of the heat, the heat machine doesn't use as much heat as compared to a curling iron. Moreover, you won't be suffering any damage to your existing hair, provided that it's done in the correct manner.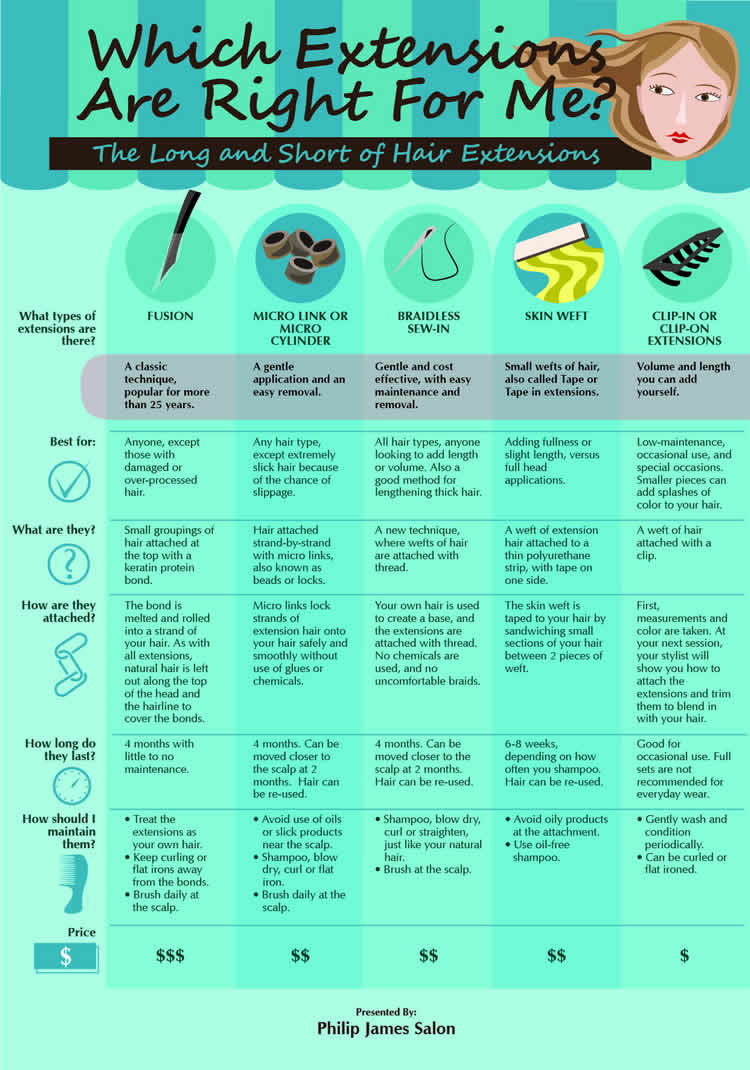 2. Do Your Research
It is crucial to get the right stylist to help you achieve your ideal length if you're expecting a final look which would have the extensions blend well with your natural hair. It is advised to first ask a stylist what methods of hair extensions that they're trained in, you can even further discuss with them your lifestyle so that you would find out what type of extensions can help you obtain your desired look, and also to what extent you'll be dedicated to upkeep the extensions.
3. Getting a Keratin or Smoothing Treatment? Do It Before You Get Your Extensions
What makes natural hair extensions really cool is that you can use just about any product to style your hair, and you can even have the extension curled, straightened and colored! If you want to have a hair smoothing treatment, be sure that the treatment is done three to four weeks before setting up the extensions. It should be done this way because some have their hair go through hair smoothing treatment after getting extensions and their extensions slip off due to their softened hair.
Hair Extensions Aftercare
How To Care For Clip In Hair Extensions?
It would be worthwhile to treat your clip-in hair extensions with deep conditioning mask about once a month to ensure the extensions remain soft and glossy. If your clip-ins are still dry even though they are given condition treatment on a regular basis, you can give them a long-lasting moisture boost by spritzing on a leave-in conditioner. The Tigi Bed Head Dumb Blonde Leave-In Conditioner and the deliciously-scented Tigi Bed Head Colour Goddess Leave-In Conditioner don't only keep hair hydrated and soft, and they could also make the color intensity of your hair extensions prolonged.
Your clip-in hair extensions would remain in tip-top condition if you left them to dry naturally and not attempt use of the hair dryer just because you want to save time. It's best to leave the washing and drying to days when you have more spare time for this lustrous, long, volumized and glamorous work, as doing it in a hurry may not yield intended results. You should dry them by running your fingers through them gently, which is kinder way than using a comb, then leave them on a clean towel to dry. Do ensure your extensions are tangle-free before proceed to do so.
Storing Hair Extension: If you're done wearing your hair extensions, you would want to store them, but it's always a good idea to be sure that they're free from tangles while also nice and clean before storing them. This is due to some hair products have a knack of discoloring or damaging your lovely clip-in hair extensions if left on for a long time. It's also essential to keep them free from mustiness and mildew, so you ought to remember to ensure that they're completely dry before putting them away, you would then be spared of unpleasant surprises.
How To Care For Tape In Hair Extensions?
Flat iron shouldn't be used directly on the tape tabs as the bond would be weakened and they would slip out.
You should condition only from mid-shaft to ends when applying conditioner. When wearing tape in hair extensions, do not have conditioner applied to your scalp.
Avoid having oils and serums to be in contact with the tape, and use them only on mid-length to ends. We have natural products like coconut oil used on the ends of the extensions to so that the hair would be kept shiny and healthy over time.
You will need to reapply your hair extensions every 6 to 10 weeks to move the bonds closer to the scalp so that your hair would be healthy.
Fusion Hair Extensions Care
You can use a wide-toothed comb to have your hair detangled from ends to roots, just the same way you would do for your natural hair. This would reduce pressure and eliminate tangles on the hair before you reach the roots and the vulnerable fusion bonds attached there.
Be gentle when washing fusion extensions, and never scrub as breakage and matting may take place. Try using a non-stripping and gentle shampoo. It's best to have your hair washed in the shower if you have longer extensions, you could tip your head backward and then use the pads of your fingers to clean your scalp gently. As the water from the shower head streams downward, it would rinse your hair from root to tip without too much manipulation on the strands. It would also reduce having your hair flipped back and forth repeatedly so that there will not be too much stress on the easily-loosened hair at your hairline and nape.
You need to make sure to keep all heat appliances far away from your fusion bonds. Curling wands, flat irons, and all other similar tools may weaken or crack the hot- or cold-fused keratin bonds. When heat styling or blow drying your mane, focus instead on the hair length and the roots can be left air-dry.
Find out more on Top Quality But Cheap Clip-in Hair Extensions You Should Know.